Do you really Can you Freeze Fresh Figs? If you are a figs lover, you probably want to make sure you have figs around for cravings attacks. Figs are simply delicious eaten plain but also atop salads or with a slice of cheese. But sometimes, you are left with too many figs, and you probably start to wonder, how can you make them last longer? Can you freeze fresh figs?
To answer these questions, you need to know how to store your figs properly. Freezing offers to expand the shelf life of food, which can also be applied to your delicious figs. While figs are most versatile fresh, they can be frozen for long-term storage. So do not panic if you have a bunch of figs and keep them frozen.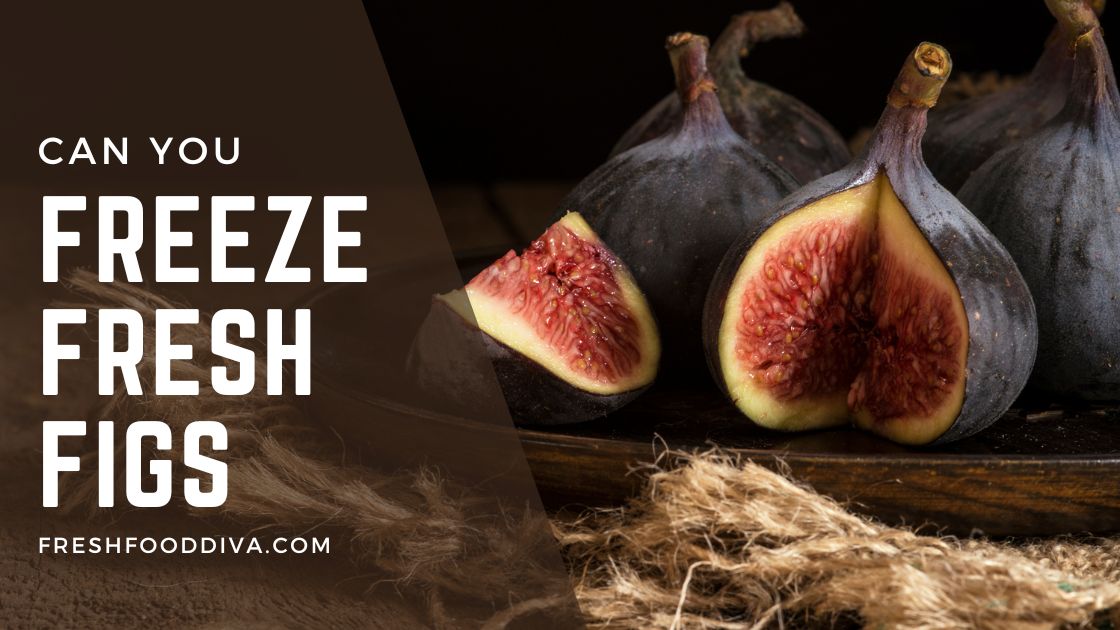 Now that you know it is possible to freeze fresh figs, it is time to learn about the process. Freezing figs is quite simple, so you don't need to feel overwhelmed. However, there are some tips, steps, and useful tricks you ought to know to preserve fresh figs.
Can you Freeze Fresh Figs
Method 1: Flash Freeze Method
Wash the figs in cool water.
Be sure to sort out the figs that are overripe because they do not freeze well.
Pat them dry with a paper towel and then lay them on a baking sheet with the paper lining.
Place the baking sheet in the freezer until the figs have frozen.
Transfer the figs in airtight freezer bags or a sealed storage container.
Don't forget to label the bags with the date you got the figs, and then place them back in the freezer.
Method 2: Sugar Syrup Method
Submerge the fruit in a simple syrup. The result after thawing will be somewhat similar to canned fruit.
To make a sugar syrup, combine 2 cups of water with 1 cup of granulated sugar.
Heat in a saucepan and stir until the sugar has completely dissolved.
Once dissolved, the mixture will be clear or slightly white; remove it from the heat and cool.
Allow 1 cup syrup for each quart (4 cups) of figs. To keep fruit from changing color, stir ¾ teaspoon of ascorbic acid into each quart (4 cups) of syrup.
Portion the figs into airtight freezer-friendly containers.
Pour the cooled syrup over the fruit until just covered. Leave an inch headspace at the top of the container.
Place a piece of crumpled wax paper against the surface of the fruit to keep it submerged and protected from the air before closing.
Label the bags or containers with the date to track how long it has been frozen and place it in the freezer straight away.
Common Questions Regarding How Can you Freeze Fresh Figs
How to choose figs?
Pick plump figs that feel soft without bruising, wrinkling, or splits. Ripe figs may be covered with a whitish bloom, letting you know they are at their peak.
How to store figs?
Gently wipe the skins with a damp cloth, and trim off the stem if it's hard, then either keep whole or cut in half from top to bottom. Store figs in the refrigerator for 2 to 3 days wrapped individually in kitchen paper, but since figs are best at room temperature, take them out of the fridge an hour before you eat them. Slightly unripe figs can be left out of the refrigerator to ripen.
How do I use frozen fresh figs?
Frozen figs are useful in numerous recipes. They make a fabulous addition to baked goods, like pieces of bread or muffins, where the fruit is stirred into a batter or used in a filling.
They can also be used in smoothies, homemade ice creams, jams and other preserves, and fruit sauces.
How long can you freeze fresh figs?
When stored in the refrigerator, figs could remain in good shape for up to 7 days; if frozen, fresh figs could be kept for 6-8 months.
Will the texture change if figs are frozen?
Freezing figs would likely cause them to change the texture. When thawed, they may turn soft or mushy, but it is still good to freeze them for longer storage. Did you know there are Different Types Of Dates?
What can I do with too many fresh figs?
If you have too many fresh figs on your hands, you can try many recipes. Check out a few ideas, and feel free to pick your favorite.
Fig Cobbler. Instead of allowing your figs from spoiling, make a delicious cobbler as an alternative to the usual peach or apple cobblers.
Fig bruschetta. Figs are a great spin to the traditional bruschetta with tomatoes and basil. Make this recipe with figs and goat cheese for an elegant appetizer full of flavor.
Spiced fig jam. This fig jam includes red wine, herbs, and a little balsamic vinegar.
Roasted chicken with figs. You don't need to wait for the holidays to enjoy this amazing and mix of flavors. It turns out figs and chicken are the perfect pair, enhanced with the cozy flavors of rosemary.
What do you do with fresh figs off the tree?
If you have the joy of fig trees, you can enjoy figs raw, grilled, poached, or baked, and they also work well in many desserts.
Figs pair well with walnuts (How to Harvest Walnuts), honey, and cheeses, particularly blue varieties and soft goat cheese.
Figs also pair well with citruses such as lemon and orange, cured meats, fortified wines, rich dairy products such as mascarpone cheese, and warm spices such as cinnamon, cloves, nutmeg, and star anise.
How to defrost frozen figs?
To defrost the figs, remove the container or bag from the freezer and place it in the fridge. Putting the container or freezer bag onto a plate or bowl is best to catch any water running off during thawing. Leave overnight to defrost. If frozen in a sugar syrup, stir the mixture occasionally and drain off the syrup before using.
There's no need to defrost if you are using the figs in a smoothie; you can add them directly from the freezer without thawing.
What is the best fig container?
BPA Free, Made with High-Grade Borosilicate Glass extremely low Thermal Expansion Coefficient. The container will virtually have no expansion when heated; it is also suitable for microwave, freezer, dishwasher, and oven.
A fully Sealed Compartmentalized design gives you the flexibility of storing different kinds of food in the same container without them getting mixed even when you turn the container upside down. This container comes with a newly designed Lid that features a Smart-Lock locking system.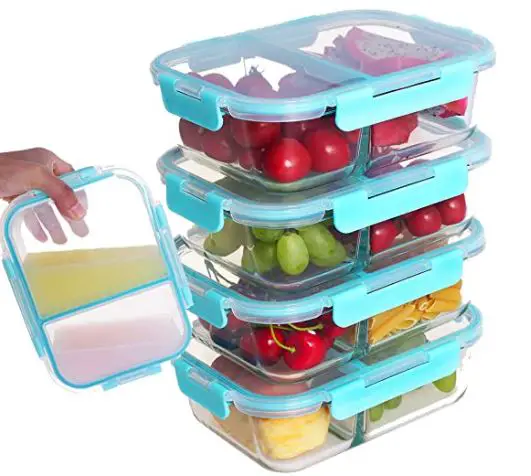 Features:
BPA Free
High-Grade Borosilicate Glass
SmartLock locking system
---
Reusable food storage bags made of food-grade materials, food storage bags are BPA-free, PVC, chloride, and lead-free. Transparent design, you can directly see the situation inside the food bag.
Upgraded zip lock bag sealing technology, leakproof, waterproof, hygienic, very suitable for food storage and freshness. Ideal fresh-keeping bag, easy to store and easy to use. No peculiar smell will be produced in the storage refrigerator.
They protect your food from discoloration and drying, keeping the original taste of the food, great for freezing meat, fish, and vegetables.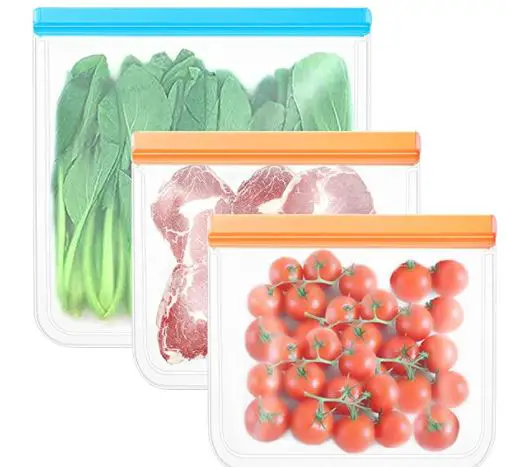 Features:
BPA free, PVC, chloride, and lead-free
Reusable
Leak-proof seal
Multi-purpose
---
Additional Tips Regarding Can you Freeze Fresh Figs
If your final goal is a jam or sauce, you may want to peel your figs before freezing.
To avoid figs clumping together, first lay the fresh fig quarters on a baking sheet in a single layer, with enough space to not touch the figs.
To use figs frozen in a sugar pack, thaw and drain the syrup from the figs before using them in a recipe.
Figs tend to darken during freezing due to air contact. Coat the fig pieces in powdered ascorbic acid if you care about it.
Half a cup of lemon juice per quart of fruit added to the syrup before covering the figs will also help to preserve the figs' color.
A simpler method for packing the fruit in sugar is to sprinkle sugar on the fig pieces.
Read: How to Dice a Jalapeno