Wondering How to Keep Brownies Fresh? If you can't resist a good brownie, then you probably look for ways to keep them fresh for longer to keep your brownie dose going for a while. Brownies are easy to store actually; however, there are a few things you need to know first, and today we'll be telling you all about how to keep brownies fresh.
Once you cook a batch of tasty and yummy brownies, or perhaps you bought a whole bunch of them, nothing wrong with that, and while you could probably finish them all at once, deep down, you still want to save some for later; but how do you do it? How do you keep them in top shape?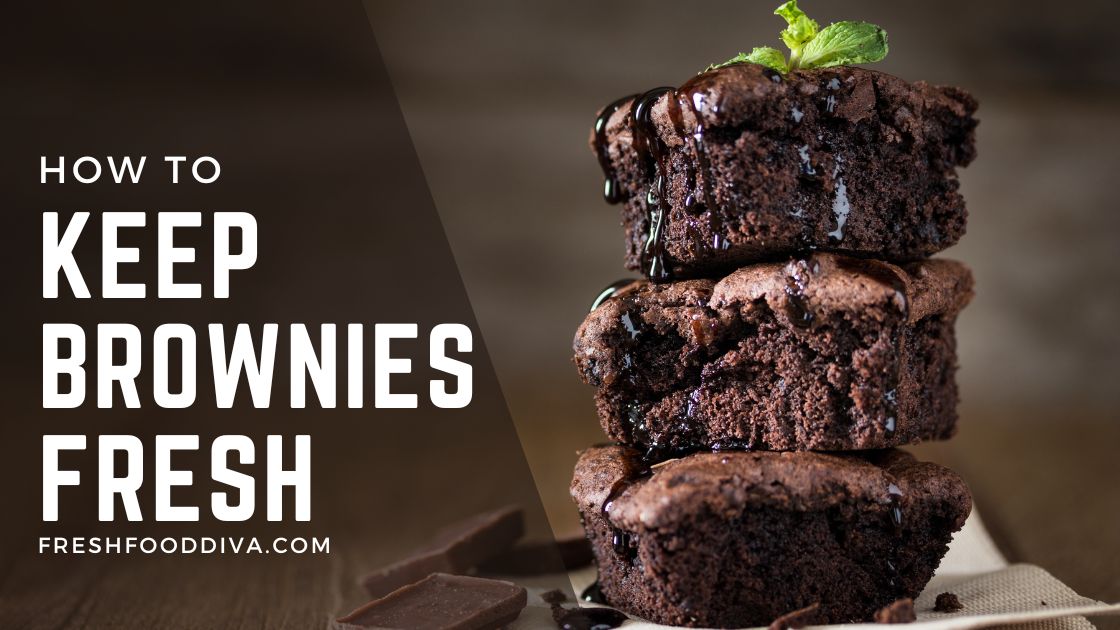 It is possible to keep them fresh for the next day and even for longer, so pay attention to the following tips and techniques to make all your brownie's dreams come true and learn how to keep brownies fresh the right way.
How to Keep Brownies Fresh
Fresh Brownies For The Next Day
Wrapping your brownies in plastic wrap and let them hang out on your counter. They should be in optimum conditions for the next day's breakfast.
Fresh Brownies For a Few Days
Store with a piece of bread: If you store brownies for a few days inside any container, place a piece of sliced bread on top of the jar. The moisture from the bread will help keep the brownies soft and keep them fresh for a few extra days.
Dip your brownies in chocolate: If you want to make some extremely decadent brownies that will stay fresh longer, try dipping them in melted chocolate, covering them completely. The chocolate creates an airtight shell around them, preventing the air from getting to that delicate brownie surface.
Keep them at room temperature: Wrap your brownies or whole brownie using aluminum foil or plastic wrap and let them hang out on your counter. If you choose to store the brownies at room temperature, they will stay nice and fresh for about 3-4 days.
Recommended Product
Candy Melts candy takes care of all your dipping, dunking, and drizzling needs. Use Candy Melts candy for cake pops, cookies and molded candies, and more.
These versatile wafers melt easily in a microwave, double-boiler, or our Candy Melts Melting Pot.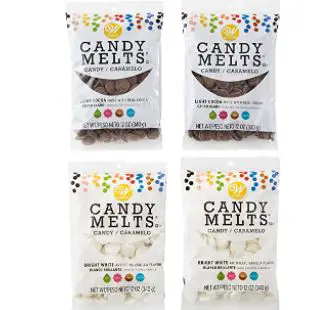 Features:
Multipurpose
Easy to use
It contains milk and soy
---
How to Keep Brownies Fresh for a Couple of Weeks
Keep brownies in the refrigerator: If you want to keep them fresh for a few days, wrap them tightly and place them in the fridge. When stored this way, brownies will stay fresh for about two weeks.
Wrap brownies in plastic wrap
Place in the fridge
When ready, grab one from the fridge and let it come to room temperature before eating to ensure it is nice and chewy.
You can also microwave the brownie for a few seconds to heat them.
Recommended Product
Extend foods' freshness with Glad ClingWrap Plastic Food Wrap keeping air out with a tight seal
Glad ClingWrap will adhere to multiple surfaces from glass to metal, keeping leftovers fresh and keeping odors from seeping out.
Glad ClingWrap will grip tight seal easily and is the ideal plastic wrap for prepping, steaming, and protecting food.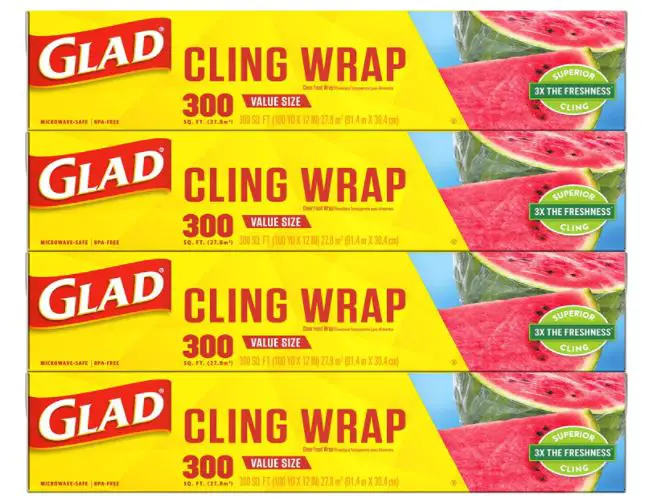 Features:
BPA free
No plasticizers
Multipurpose
---
Fresh Brownies for Months
Keep brownies in the freezer: Your freezer is the best choice if you make a huge batch of brownies and want to keep some fresh for a long period.
Wrap the brownies very tightly, preferably in plastic wrap. Cut and wrap the brownies as individual servings.
Store the brownies in the freezer
You'll have brownies for up to three months
When ready, take them out of the freezer and let them thaw
Place your brownies on the counter still wrapped, at room temperature
You can also pop them in the microwave for a few seconds
Enjoy your fresh brownies
---
Common Questions About How to Keep Brownies Fresh
What is the best way to keep brownies fresh?
Brownies taste better the next day. Cool in the pan, then set aside, uncut, overnight in an airtight container or 2 layers of foil.
Unless you want dry crumbs, keep your brownies vacuum sealed at room temperature, and they will stay moist and delicious.
Should I refrigerate brownies?
No. Fully-cooked brownies will last a while, a week, or more. Properly stored and vacuum-sealed will last much longer, and there is no reason to store them in the refrigerator.
How do you keep brownies from getting hard overnight?
A proven method to soften brownies is to use a couple of slices of white bread. Cut brownies into squares and place them in an airtight container. Place the bread slices over the brownies and seal the container, leaving them to sit overnight.
How long do brownies last?
Their shelf life really depends on whether they've been cut. Store cut brownie squares in an airtight container at room temperature; they're best eaten within 1 to 2 days.
A whole pan's worth, uncut and well-wrapped in plastic, will keep at room temperature for up to 4 days.
How do you know when brownies are done?
When you test a fudgy brownie for doneness, the toothpick you insert in the center should come out with a few moist crumbs attached.
Can brownies be frozen?
A whole pan's worth of delicious brownies can be kept in the freezer for months. To freeze, wrap uncut brownie in 2 layers of foil and 1 layer of plastic wrap and freeze for up to 4 months.
Why shouldn't brownies be cut?
When you cut brownies, you expose more parts of the brownie to the air. This can make the brownies dry out very quickly. In other words, you may go from a yummy chewy brownie to a crunchy dry brownie quite fast.
How do you keep brownies from drying out?
The solution to preventing your brownies from drying out is simple, keep them in the tray they baked in, uncut until you are ready to eat them!
What is brownies' number one enemy?
Air is your brownies enemy, so any way you can prevent air from touching your brownies is something you should definitely do.
How do you revive brownies?
If you somehow ended up with dry brownies that are stale, you can easily bring them back to life using your microwave.
Put your brownie in the microwave for about ten seconds at a time
Just enough to heat it and make it soft again
Enjoy it right away. Your brownie will taste fresh and delicious as it should.
What are the options to store brownies?
To store brownies successfully, you can use plastic wrap, which is the best way to keep brownies fresh.
Foil is the second-best option for storing brownies as you can bend it to be right against the brownies. The tighter you can wrap them, the better.
You can also choose to keep brownies fresh by placing them in an airtight container.
Cookie tins or cookie jars are other options that will suffice. However, they aren't always as airtight as plastic wrap, plastic storage containers, or foil.
If you want a quick way to wrap individual brownies, place them directly into Ziploc bags.
Additional Tips on How to Keep Brownies Fresh
When storing brownies, the key is to keep the air at bay. What you're looking for is for brownies to stay wrapped and away from that dangerous, drying air.
Always cut your brownies on a cutting board, never in the pan.
Before each cut, keep the edges extra neat, clean the blade under warm water, and leave it slightly wet.
It is highly recommended not to cut them until you are ready to eat. It's best to let them cool anyway to get a clean cut.
If storing brownies with a piece of bread, and if you notice that the bread is starting to get dry, replace it with a new piece of bread.
After reading this, would you also be interested in reading How to Keep Marshmallows Fresh?