Every experienced fisher knows that you need to follow certain guidelines and the proper tools to keep your fish fresh. If you are interested in fishing, you probably wonder how to keep fish fresh while fishing. No worries, this is a common predicament every fisher faces, and today, we'll be sharing with you everything you ought to know about how to keep fish fresh while fishing.
If you and your entire family enjoy fresh fish, then good for you. Fresh fish becomes not only a yummy meal but also one that holds many health benefits. That said, when handling fresh fish, you need to act quickly and know exactly what you're doing because it can go bad pretty fast.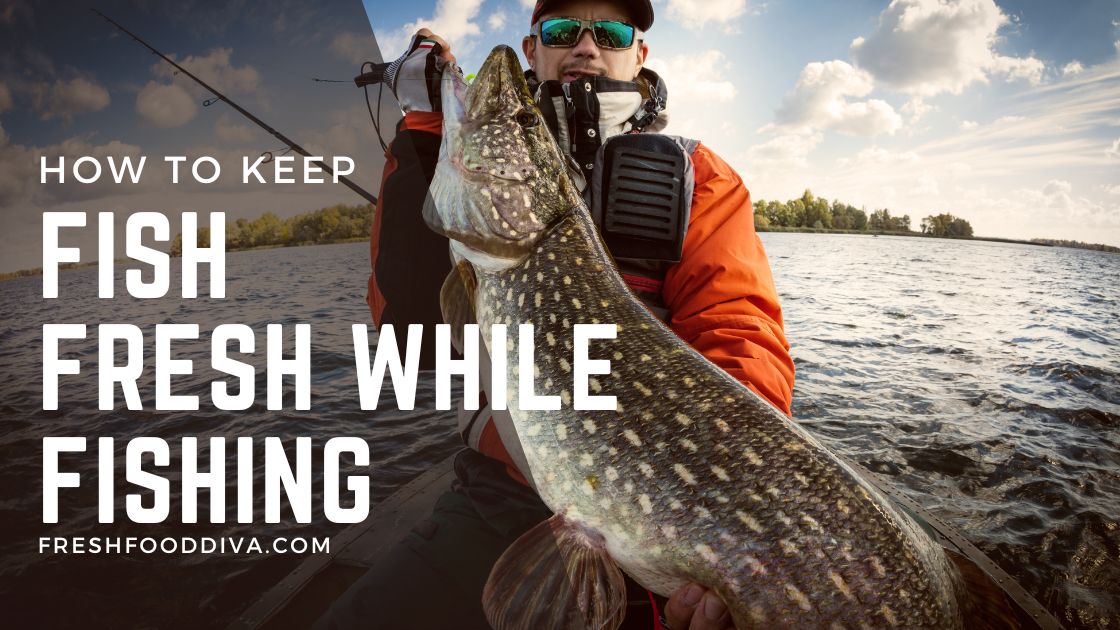 Knowing how to keep fish fresh while fishing becomes critical if you want to avoid making it prone to bacteria. Continue reading and learn how to keep fish fresh while fishing and more useful tips.
How to Keep Fish Fresh while Fishing
You can keep the fish fresh either by keeping it alive, or you could also gut them immediately once they die.
Method 1: Keep Fish Alive
Make the fish dormant. You can immediately make them dormant for smaller fishes by keeping them in flaked ice in a cooler or a bucket. It is important to keep them in plenty of space and position them upright to stay longer.
Retain them in a basket. You can opt to keep them in a suitable-sized basket lowered in water to prevent them from getting free as baskets have self-closing latches.
Could you keep them in a stringer? This method is suitable only subject to the condition that water should be cold because warm water can expire the fish immediately.
Preserve them in life well. Live wells are like containers that you can easily lower in water and hold your catch effectively.
Method 2: Kill It Immediately
A lot of people put the fish for cooling and let it die slowly. Doing that will ruin the quality of the fish.
Wash it thoroughly. After killing the fish, the next step is to clean the fish thoroughly. Ensure that all the fish's blood is drained before starting storage.
Keep it cool. This could be termed as the most crucial step. The only way to keep your fish fresh is by keeping it cool. The fish can be used for the next five days when it is cold and kept in a freezing environment.
Icing. Icing the fish is the best way to keep the fish fresh. Depending on the arrangements, it can be kept fresh for a long time. The most common way to ice it is to use a cooler.
Fill the cooler with loads of ice. It is known that crushed ice works a lot better than ice cubes. Make sure to cover the fish with loads of ice.
Tools to Keep Fish Fresh while Fishing
Tacklebox
A tackle box is your toolbox. It also provides extra lines, hooks, bobbers, sinkers, plastic worms, and other lures.
Recommended Product
The iconic cantilever 3-tray design provides easy access to securely organized tackle and tools. Made with high-strength ABS polymer for a realistic feel.
It comes with a draw tite latch for secure closure, tip-guard tray support posts prop and balance the trays when open, and proprietary all-weather, oil-resistant resin construction.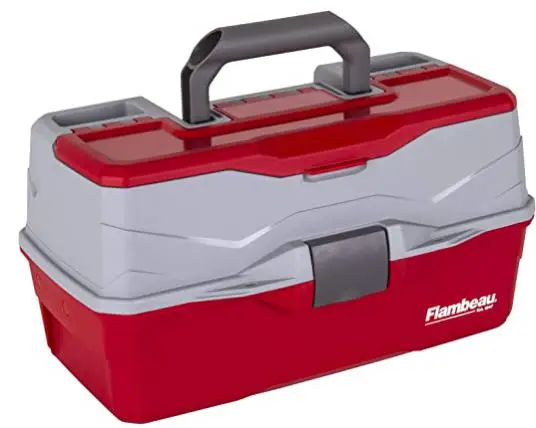 Features:
Soft-side tackle bags
Utility boxes
Live bait containers
Dry storage
---
Container for live bait
The fishes cannot be tempted just by using plastic worms or traps. More results are registered when the bait used is live to catch the fish. The smell of raw and live worms acts as the best bait.
Recommended Product
This 19-quart capacity live bait storage has an aerator integrated directly into the lid. Includes deluxe dual-speed aerator with 12V power adapter, padded shoulder strap, lift-out net liner.
This durable bait cooler was tested below freezing and functioned at the highest level.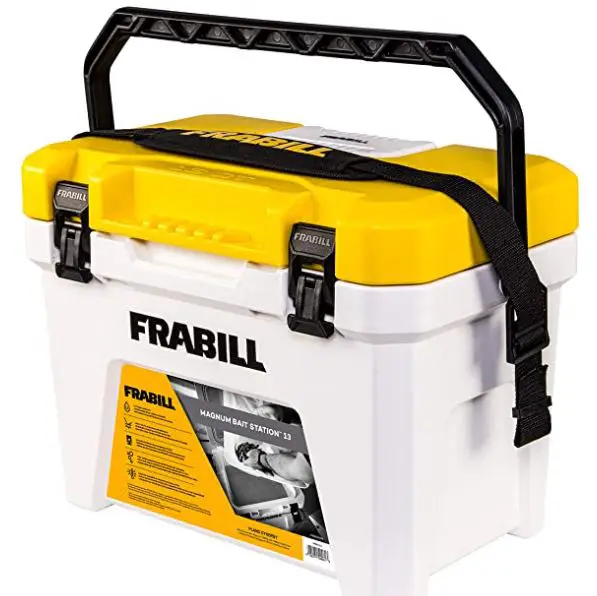 Features:
Large carry handle for heavy loads
Non-slip bottom to prevent slipping and sliding
---
Icebox or bags
Your fish needs to be preserved until you get back home. You cannot preserve your catch without ice zip locks or iceboxes.
Recommended Product
Coleman 48-Quart Performance Cooler
Keep your food and drinks cold, and keep the fun going for up to 3 days when you bring a Coleman 48 Quart Performance Cooler.
Large enough to hold 63 cans and tall enough to hold 2-liter bottles upright, you'll have plenty of space for refreshments for a whole group of people.
The Coleman 48-Quart Chest Cooler combines the easy-to-carry convenience of two-way handles with the rugged durability of a hard plastic exterior and hinged lid, making it the perfect cooler for afternoons on the beach or the game field.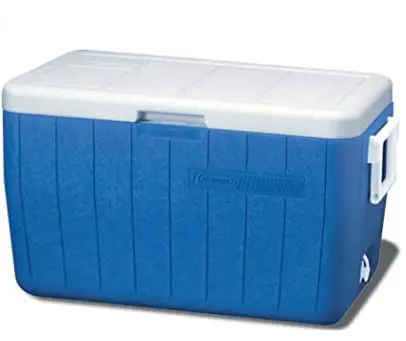 Features:
3-day ice retention
Holds 63 cans
Leak-resistant drain
Hinged lid for easy
---
Landing net
A landing net is a useful accessory and comes in very handy. The use of a landing net gives you an angler which helps you get the fish on the boat sooner by using the net.
Recommended Product
The sturdy fishing landing net is designed for convenience no matter where you set it up. Made from lightweight, soft mesh, it is gentle on catches, helping to keep it in optimal shape when getting it out of the water.
The fishnet with handle weighs less than one pound, making it incredibly easy to carry and commandeer.
The folding fishing net has an extra-long handle for improved reach to snag your catches.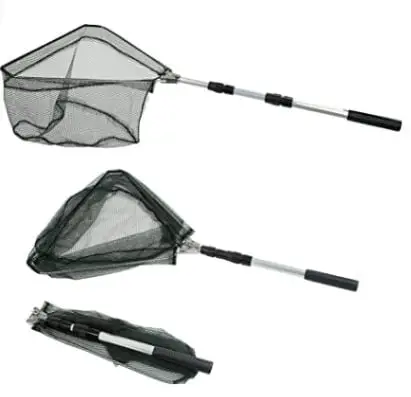 Features:
Lightweight
The soft mesh will not damage fish
The handle is foldable and retractable
---
Common Questions About How to Keep Fish Fresh while Fishing
How can you prevent fish from spoiling while on a fishing trip?
To prevent fish from spoiling while on your trip, place fish in a shallow metal, foil, or plastic pan; cover with water and freeze. To help prevent evaporation of the ice, wrap the container in the freezer paper after it is frozen. Label and freeze. Freezing fish in a block of ice will produce a poorer product quality than the glazing methods.
How do you keep fish fresh after catching them?
Before refrigerating a fish, wash it in cold water and dry it with a clean cloth or paper towels. Then wrap the clean fish in waxed paper, plastic wrap, or aluminum foil, and store it on ice or in the refrigerator. You can usually store a fish in the refrigerator for up to two days.
Should you keep fish alive while fishing?
The two best choices to preserve their eating qualities are to keep them alive or ice them immediately. Fish flesh deteriorates rapidly after the fish dies. Allowing fish to die while you continue to fish will adversely affect its edibility. Keeping fish alive is relatively easy if you use a stringer or a fish basket.
How long can you keep fish after catching on ice?
If fish are bled correctly after catching, they can be stored on ice without gutting for 24-48 hours without negative effects. After that, the quality starts to deteriorate, and you're better off freezing them instead.
How long do fish stay good after catching?
Fresh fish can only be stored for two days. Airtight packing in a tight wrap can prolong its life by freezing it.
Additional Tips on How to Keep Fish Fresh while Fishing
Killing the fish with a straight hit to the head or eye with a pointy tool is favorable.
If you leave the fish to die slowly, the stress it will be under will affect the quality of the fish.
Storing the fish without washing or cleaning it will again affect the quality of the fish. If you want to keep your catch fresh and productive for longer, you must wash it until it is clean.
When using a cooler, it is advisable to keep the drain plug of the cooler open so that water is drained out. Water ruins the taste of the fish.