Do you know How To Keep Lettuce Fresh? In the never-ending task of keeping a tidy kitchen and your veggies ready to use at all times, is a basic skill that you know how to keep lettuce fresh, and for that, you must know how to store lettuce properly and efficiently.
Firstly, Lettuce is unarguably the very soul of your salad and is imperative in other numerous dishes. When serving lettuce, you certainly don't want to look bad by giving out a limp and wilted lettuce leaf.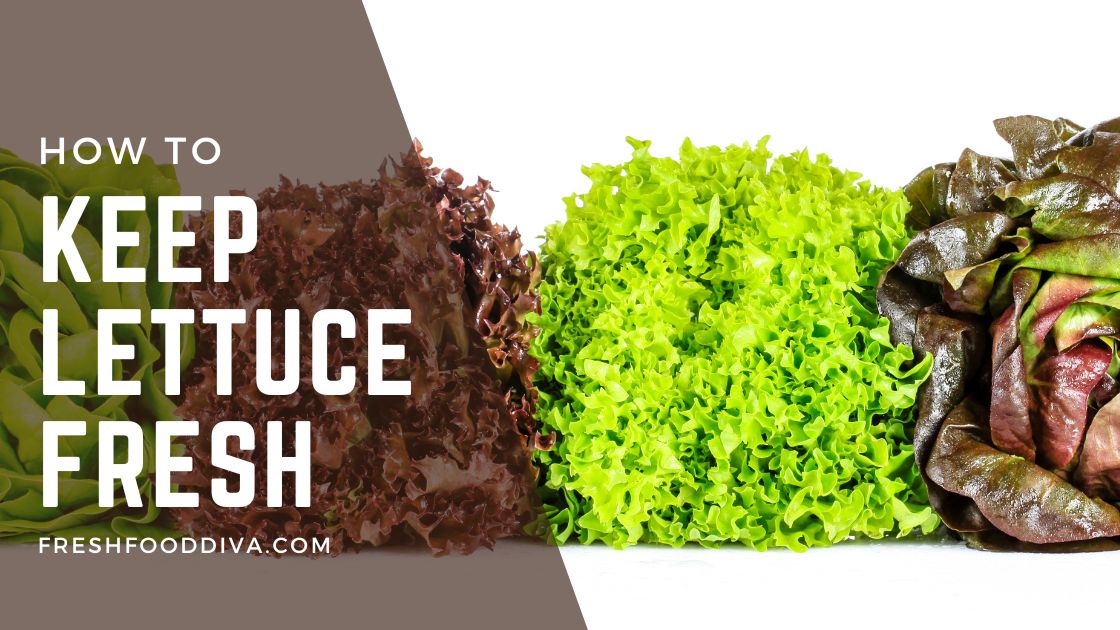 Here you'll find useful advice and recommendations to store lettuce the right way, retaining its freshness and crispiness!
How To Keep Lettuce Fresh
Lettuce can be a pain, sometimes after a few days on the fridge, they go directly to the trash. However, there are a few things you can do to keep your lettuce fresh for an entire week or even longer!

Whether you want to store separate leaves or the whole head, you need to be aware that lettuce should stay moisturized, meaning it needs airflow to stay in a good shape.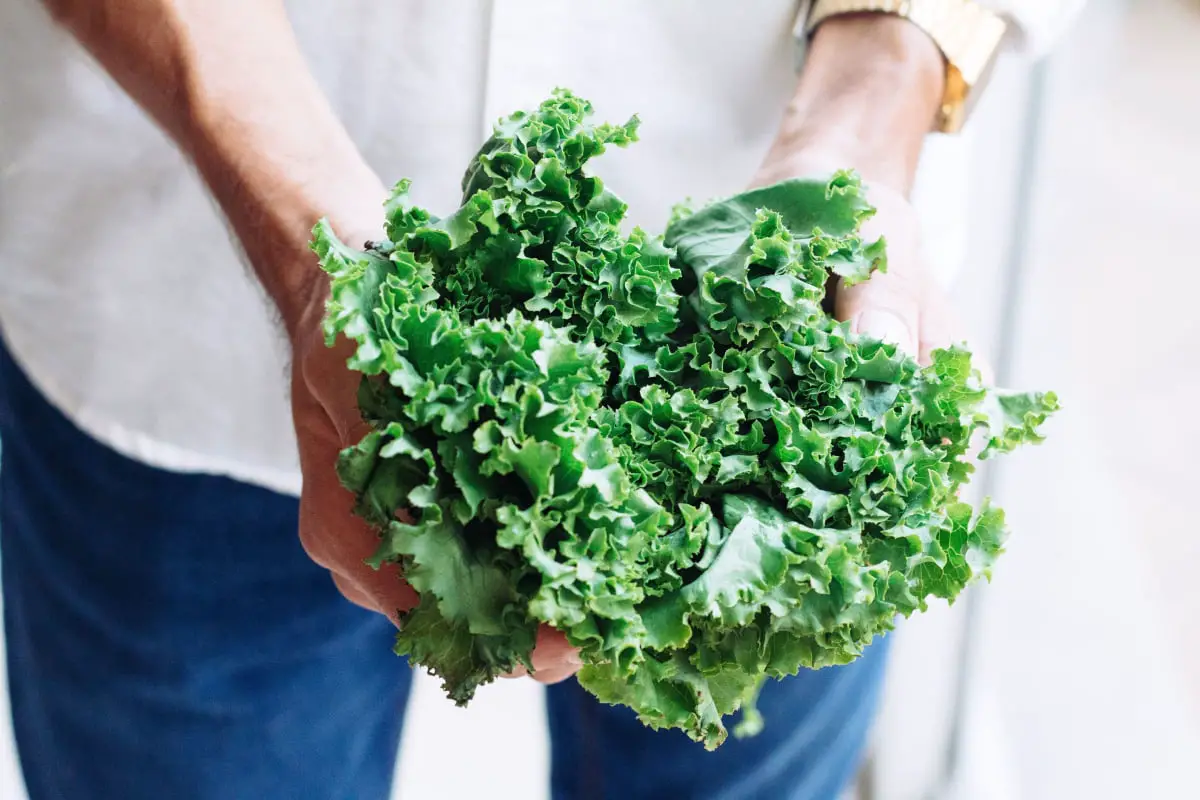 Air does causes oxidation, making your lettuce look brown; however, you can still enjoy perfectly crisp lettuce within a few days.
It may take a few minutes but prepping the lettuce, will make it last for at least a week.
Materials
Bow or salad spinner
1 cup vinegar
Water
Colander
Towel
Zip-top fridge bags
Steps
Remove all the lettuce leaves, and put them in a bowl or salad spinner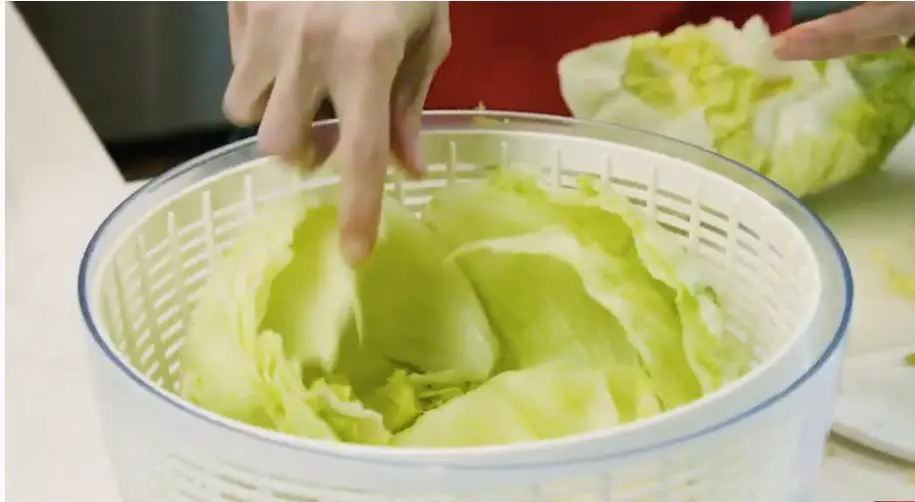 Pour the vinegar into the bowl or spinner and add water
Mix the lettuce, water, and vinegar let it soak for a 2-3 minutes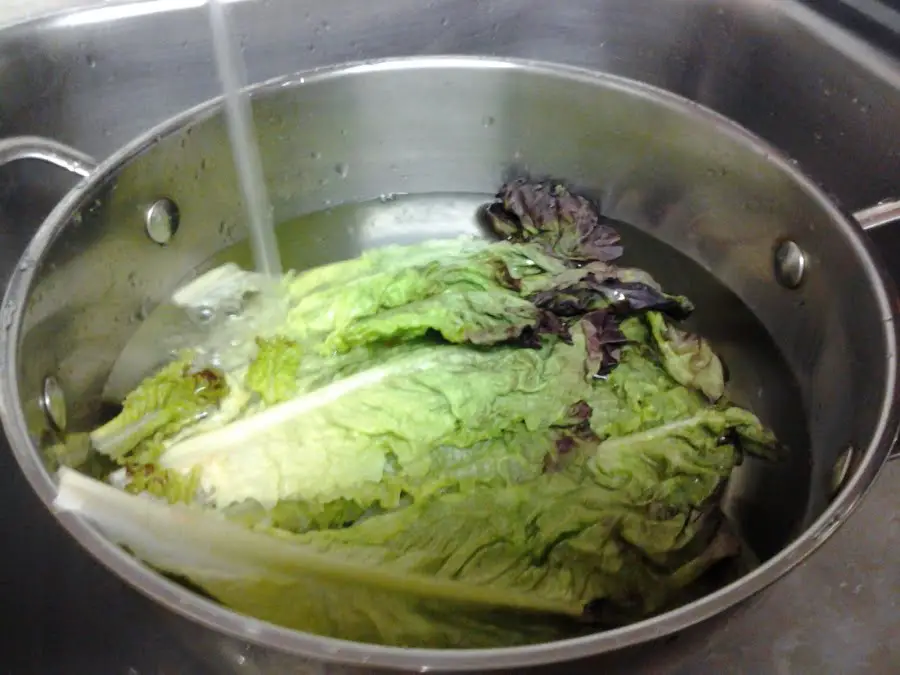 Drain and rinse the lettuce in water
Dry it using a salad spinner or using a colander to shake off excess water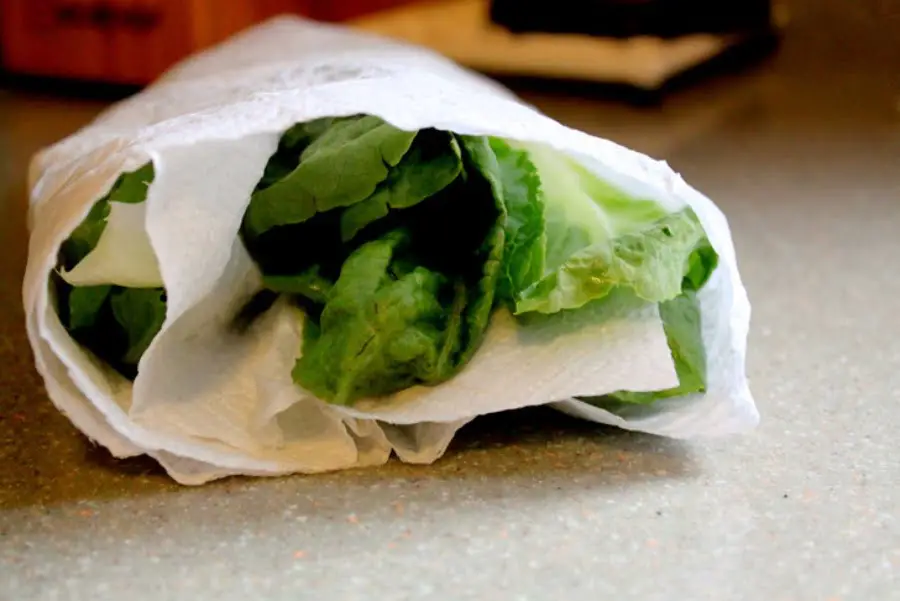 Dry the lettuce with a dish towel, or paper towels
Put the lettuce in a big enough plastic zip-top bag along with a paper towel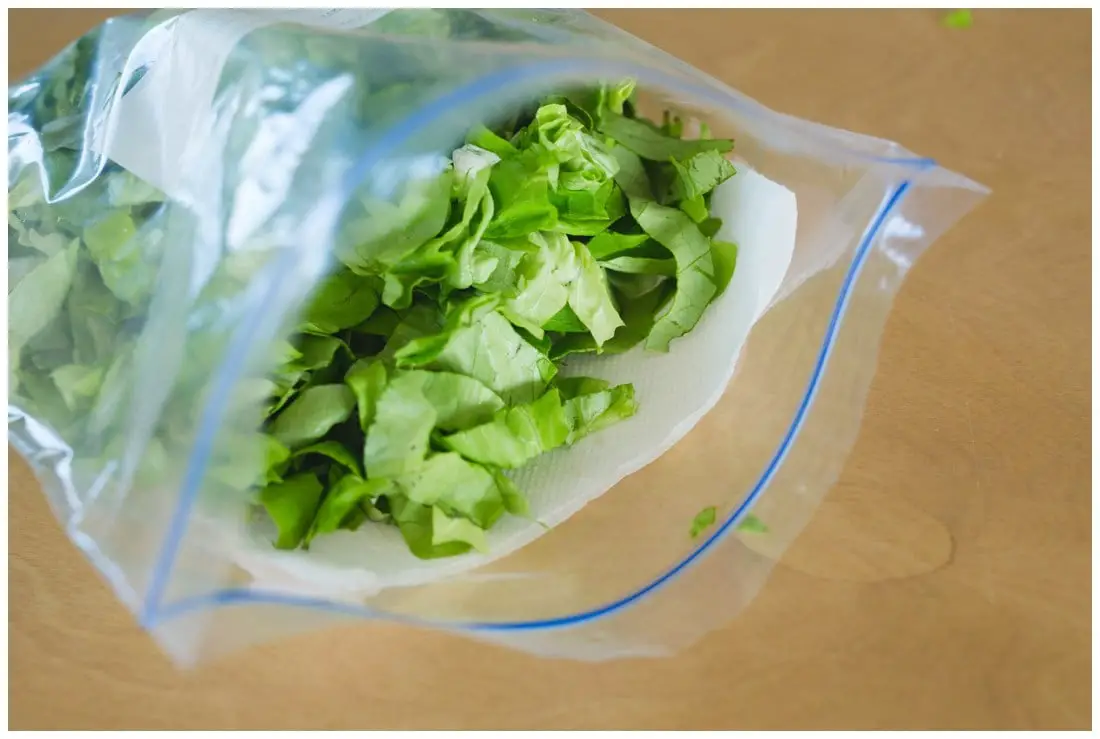 Try to squeeze the air and refrigerate
To put away a whole head of lettuce, wrap it in a damp paper towel and place the entire head inside a plastic bag. Store in the fridge.
How To Keep Lettuce Fresh After Cutting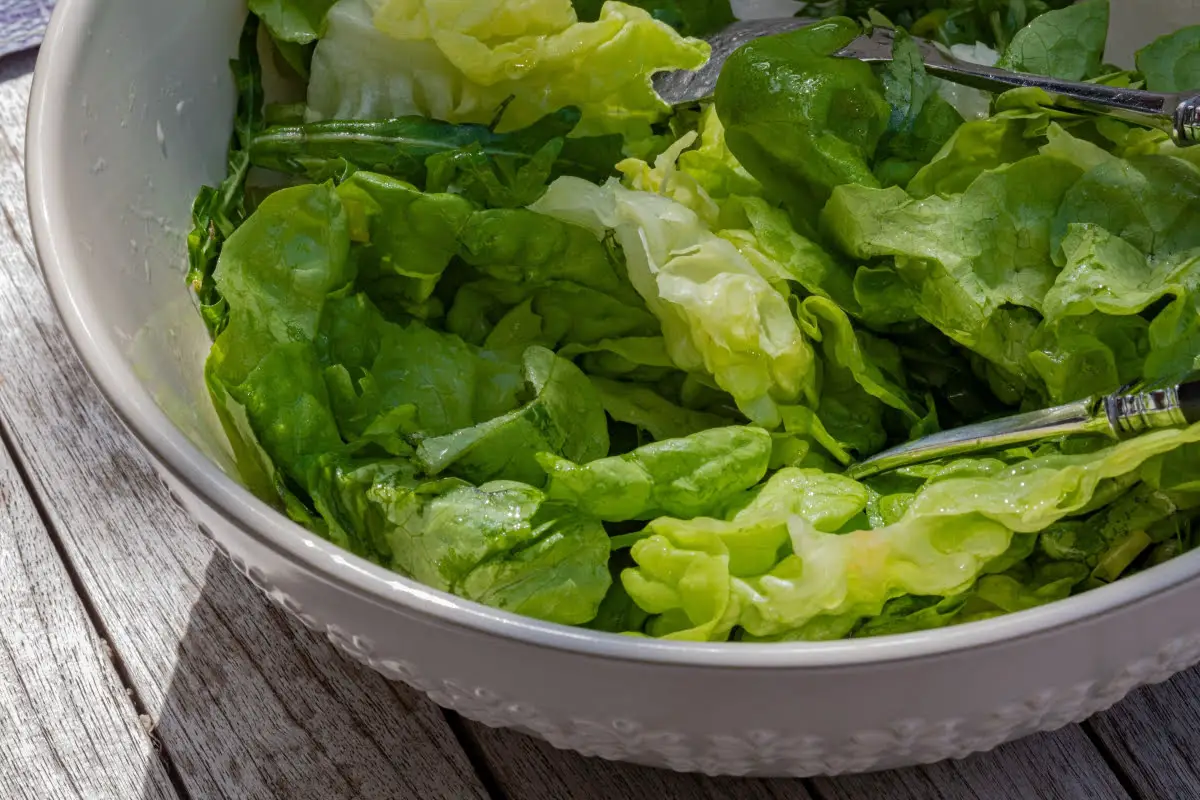 If what you want is to keep it in its best shape after cutting the lettuce, you can take aside a few leaves, shred them or chop them and place lettuce residue inside a small plastic zip-top bag with half a sheet of paper towel.
Perfect as a topping when you're running against the clock.
The Best Way To Store Lettuce
If what you want is to store the lettuce in individual leaves, spin them dry after rinsing and place them in the fridge.
A container seems to be the best choice to keep your lettuce from bruising and bacteria buildup. You can also use a plastic bag if you keep a corner open for airflow, or you can store them stemless and wrapped in a wet paper towel in your crisper drawer.
Make sure to add a few paper towels to absorb excess moisture and replace the paper towels every few days if they get too damp.
Can You Freeze Lettuce?
Be aware that although you can freeze your lettuce, it won't be as crispy and its flavor is also compromised. However, frozen lettuce is fantastic for smoothies, soups, and stews. As you can see not very advisable for recipes that require a fresh leave.
How To Freeze Lettuce?
You can either freeze lettuce leaves or make lettuce cubes! To freeze lettuce leaves you just need to separate and wash off lettuce leaves and remove water off with a paper towel. Subsequently, place the leaves in an air-tight freezer bag.
For the lettuce cubes, you need to reduce your lettuce to a puree and pour it into an ice cube tray that goes into the freezer. Ideal for liquid recipes like soups and smoothies.
How Long Will Lettuce Last In The Fridge?
You can freeze lettuce for a maximum of six months!
How To Keep Bagged Lettuce Fresh For Weeks
You wish your bagged lettuce to last for more than a week, then there are a few things you can do!
Instead of having to deal with searching for the 'good' leaves because the rest has gone bad, check out the different methods of storing the bagged lettuce.
In a plastic bag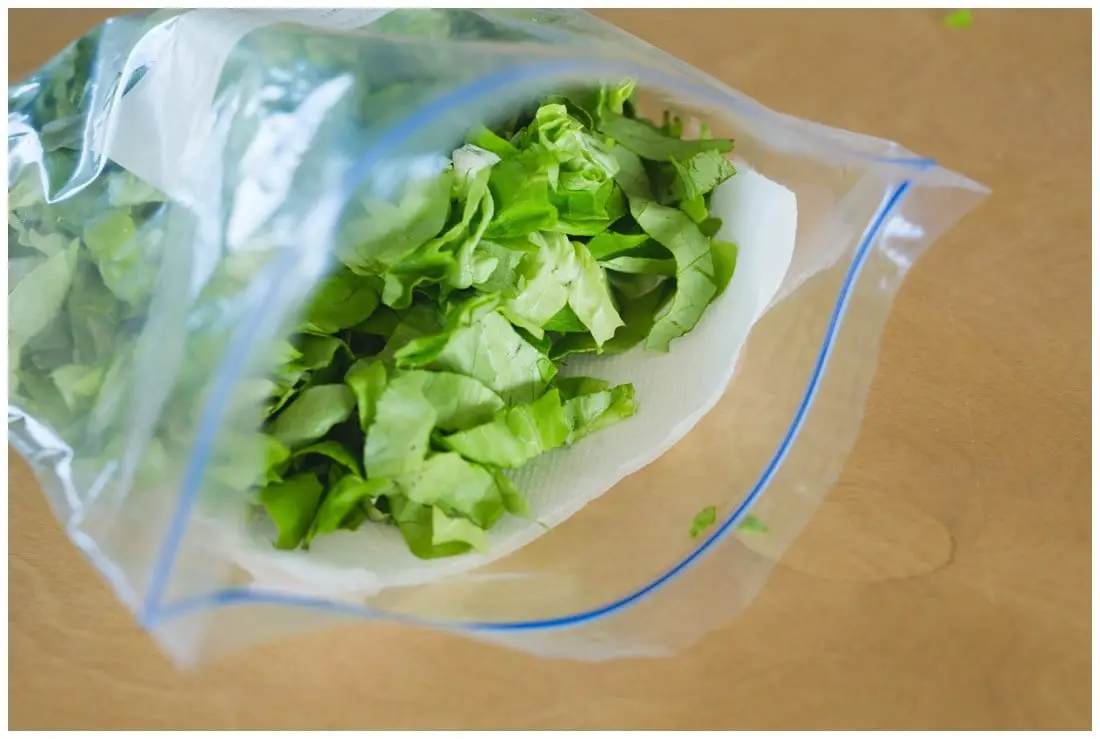 Wash the lettuce, shake out the excess water, and dry it. Put it into a Zip-loc bag and press or squeeze all of the air out of the bag. This will keep your lettuce fresh for 3-4 weeks.
In a salad sack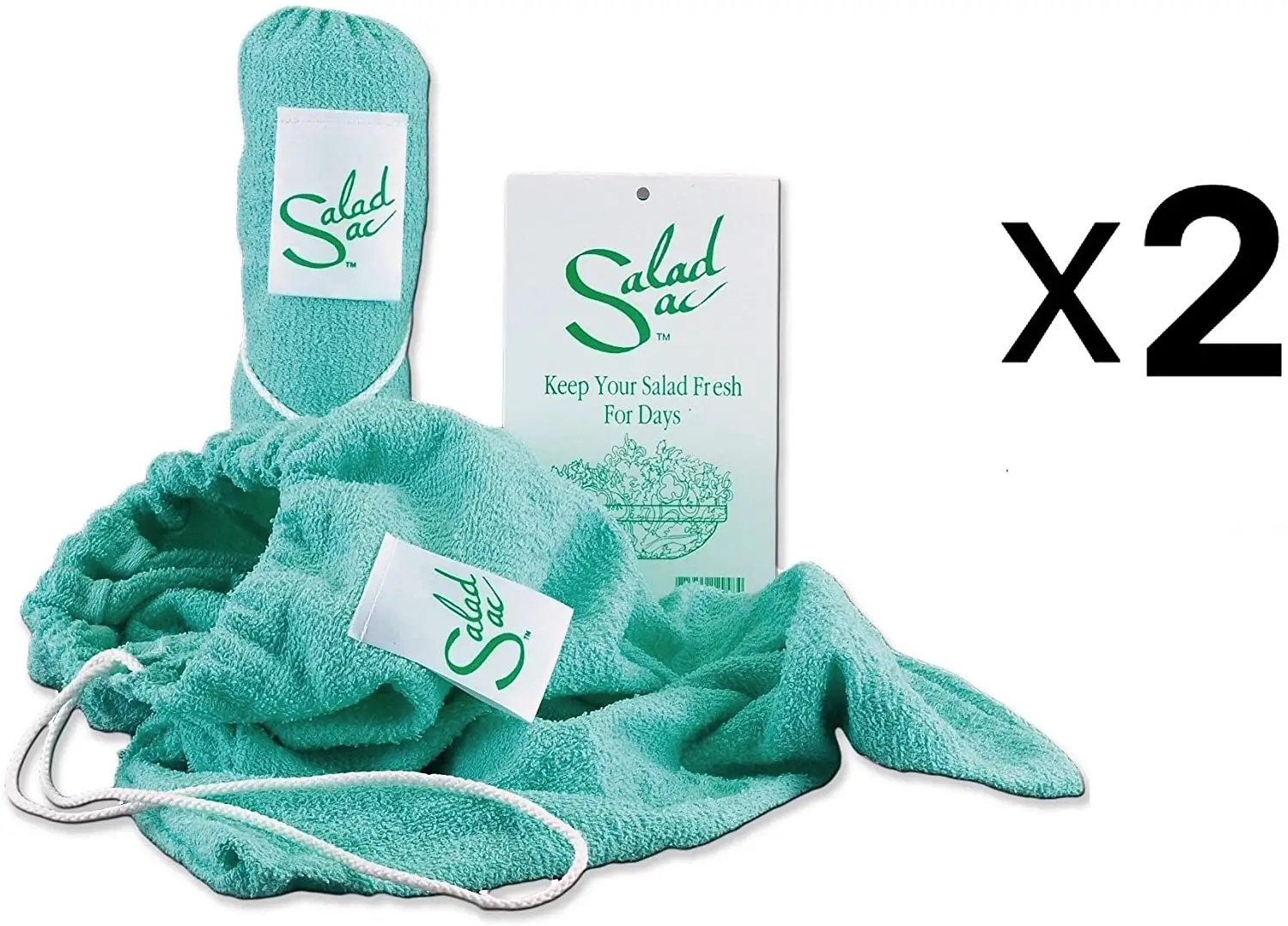 Salad sacks preserve the freshness of your greens by allowing excess moisture to escape into the sack. With one of these, you won't have to spend time drying your lettuce. Amazon offers one for $23.33
In a lettuce keeper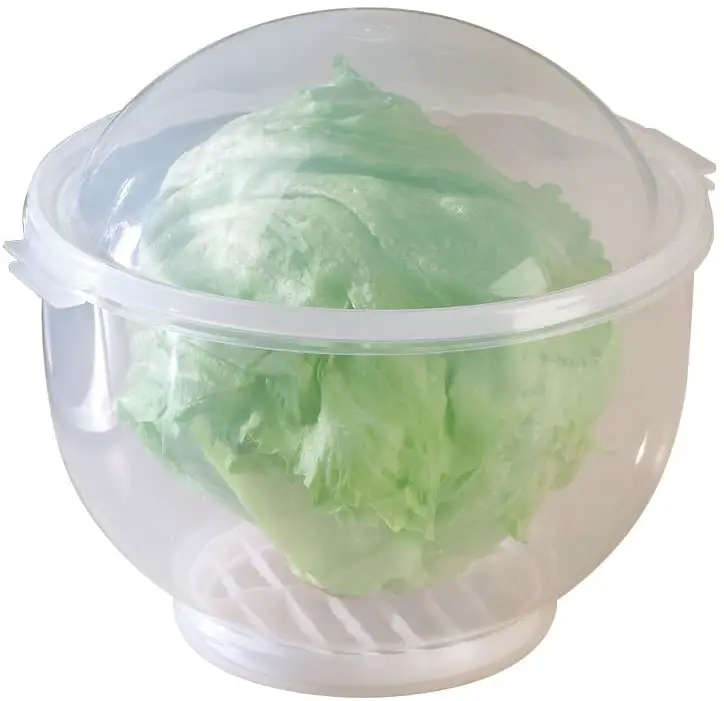 Invest in a lettuce keeper and keep the lettuce fresh. These are designed to ensure the freshness and crispiness of your lettuce.
In a Salad Bag
For lettuce that stays in good shape for longer, you need to allow it to breathe and have access to moisture. A salad bag can do this.
How To Make A Salad Bag
Materials
1 Terry cloth hand towel
2 lengths of cord (approximately 40″ each) rope or ribbon works too.
Steps
First, spread out your towel on the right side up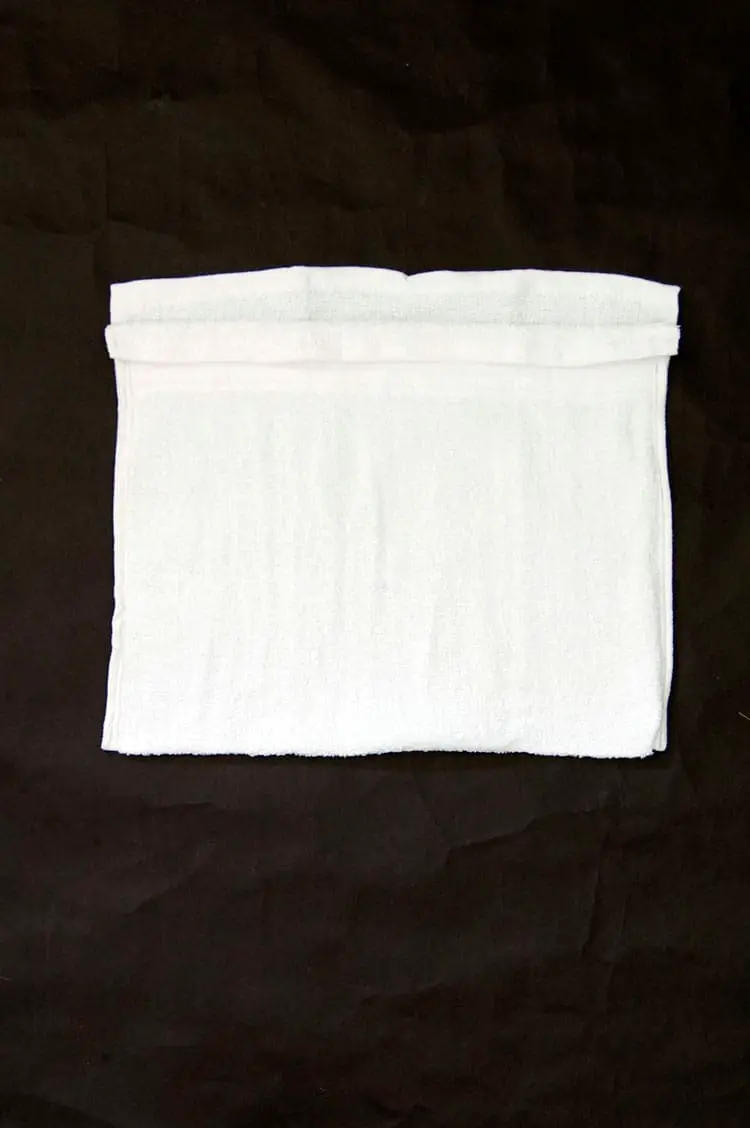 The second step is to bring the bottom up to meet the top.
Sew both sides up keeping a 1.5″ opening at the top
Turn down the top by 3/4 of an inch.
The top hem of the towel will align with where your side stitching begins
Sew down folded portions with a very small seam allowance to originate a channel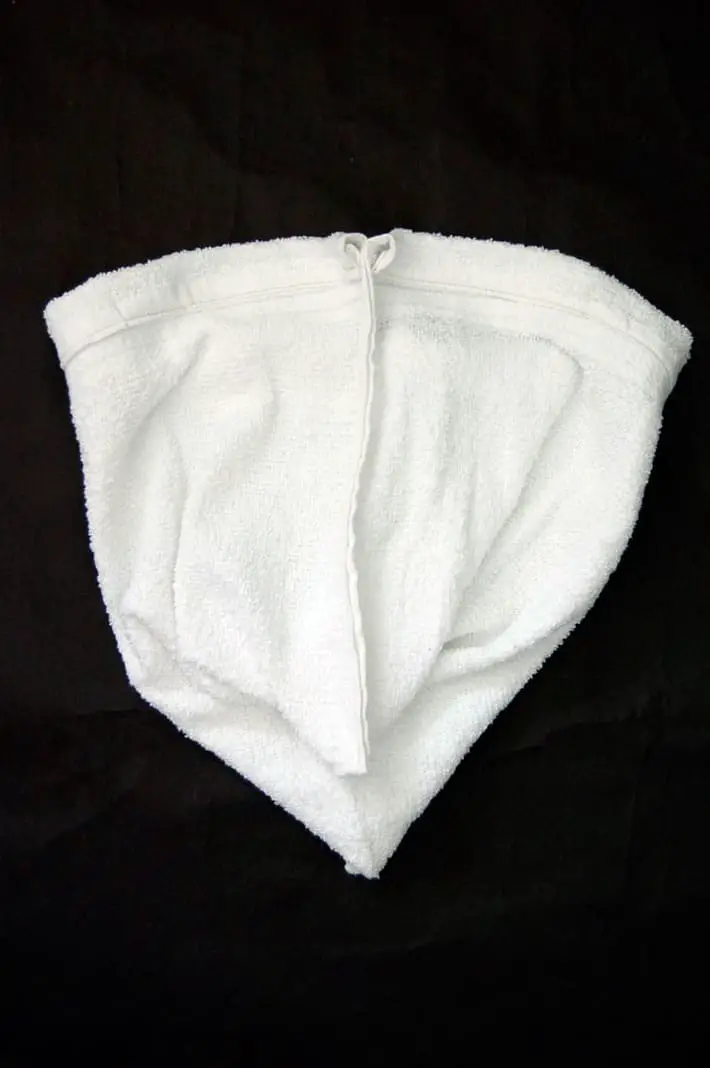 You now have a tube to run your rope to go through
Turn your bag right side out and using a safety pin run an approximately 40″ length of ribbon through the entire top of the bag. Do the same with the other side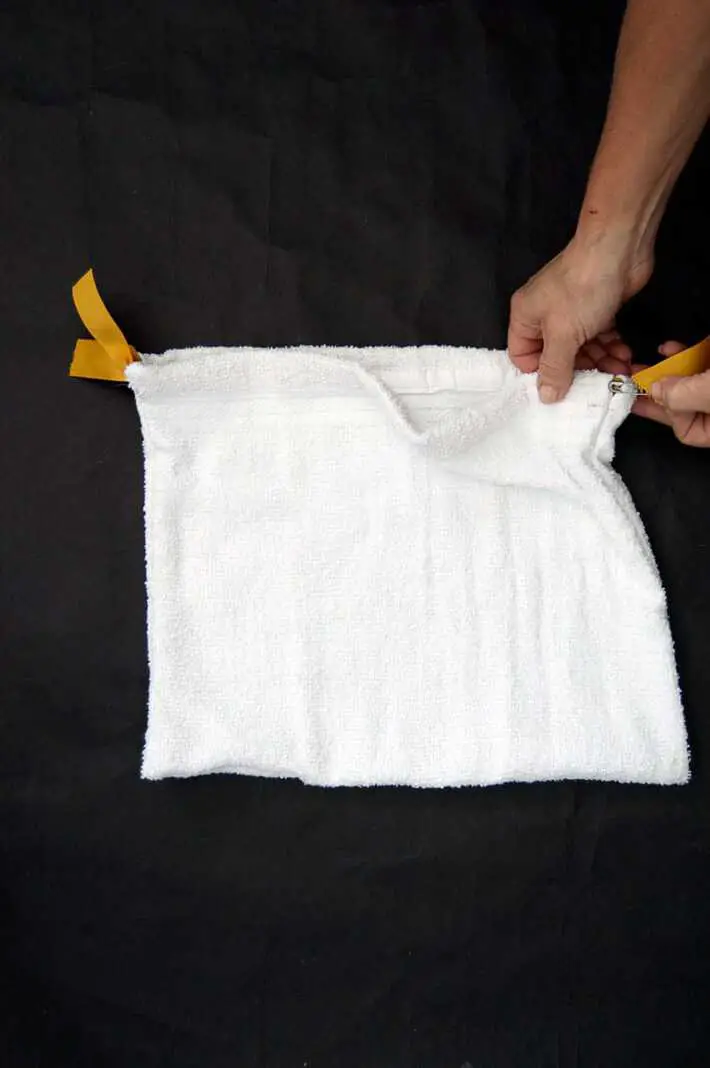 You now have to pull strings on either side of your bag
Later, immerse your bag in water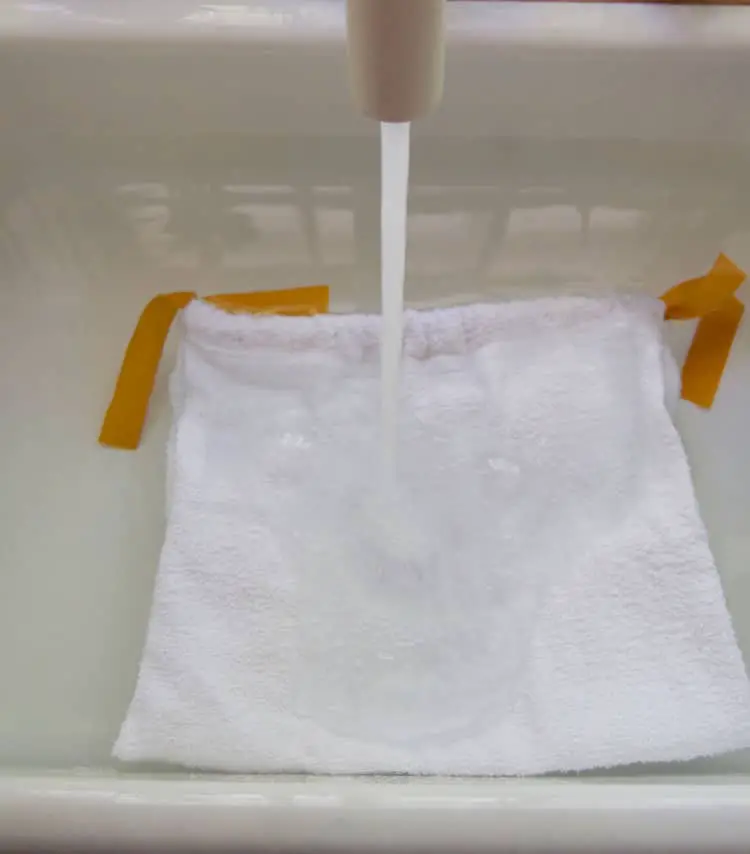 Press out as much water as possible until the bag feels damp
Put the lettuce inside the bag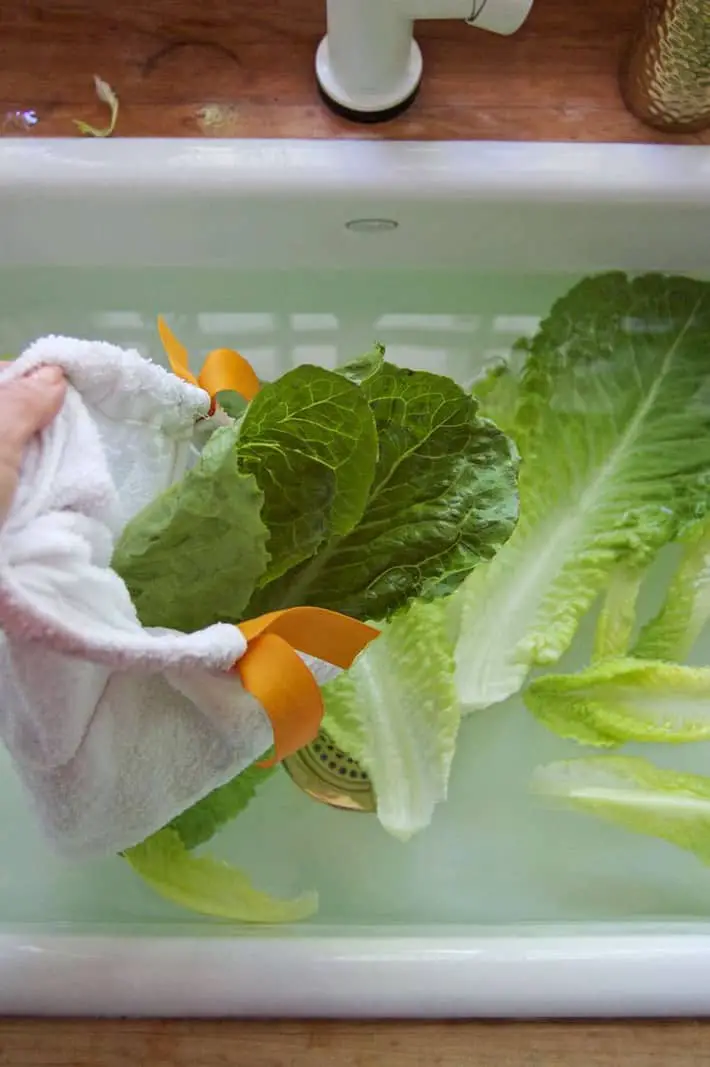 Close the bag and place it in the fridge
photos credit: The Art of Doing Stuff.
Common Questions About how To Keep Lettuce Fresh
How Do You Keep Lettuce From Turning Brown?
Once you've returned from doing the grocery and have stored your lettuce; sometimes no matter what you do, in just a few days you may find your lettuce has become brown and disgusting.
In fact, to avoid your lettuce from going brown don't store it in the same container as other cut vegetables.
How Do Restaurants Keep Lettuce Crisp?
The first thing you need to know is that food serving joints usually store their lettuce in special perforated bins, this with the sole purpose of allowing proper air circulation while it's kept in the fridge.
What To Do With Lettuce Before It Goes Bad?
If you see any signs of your lettuce wilting, don't let it become a complete waste. For instance, check out a recipe idea using your lettuce prior to going bad.
Lettuce Soup Recipe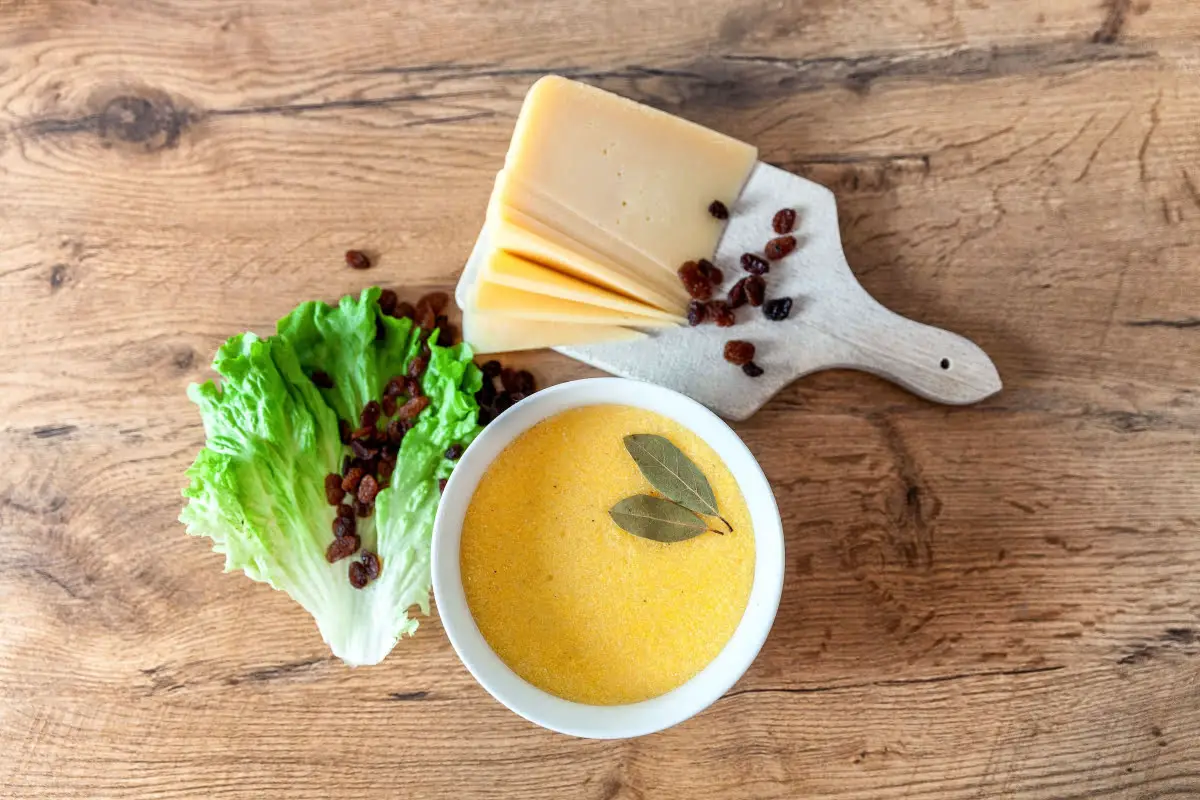 Ingredients
4 Tbsp + 1 tsp unbleached all-purpose flour
2-1/2 cups water or chicken broth
3 Tbsp butter
1 head iceberg lettuce, chopped
2 Tbsp chopped fresh dill or more
5 Tbsp distilled white vinegar
1/2 tsp kosher salt
2 Tbsp granulated sugar
1/2 tsp fresh black pepper
2-1/2 cups milk
Directions
In a heavy stockpot over medium heat, melt the butter, and whisk in 4 tablespoons of flour. Continue whisking for 1-2 minutes
Stir in the water or broth, and bring to a boil
Whisk the remaining 1 teaspoon of flour into the milk, and pour that mixture into the pot
Simmer, uncovered, for 5 minutes
Add in the lettuce, vinegar, sugar, dill, salt, and pepper
Raise heat to medium-high, and bring the soup to a boil
Turn the heat off
Taste, and adjust seasoning with more salt or pepper
Serve hot, garnished with extra dill
Our Favorites And Easiest Lettuce Recipes
Furthermore, below, you'll find some of your favorite lettuce recipes; I assure you they are truly delicious as well as extremely easy to make!
Delish's Best turkey Tacos Lettuce Wraps are exquisite! in their own words- No bread? No problem! Doubling up on romaine leaves ensures a mess-free lunch, sans the carbs.